Service Academy Nominations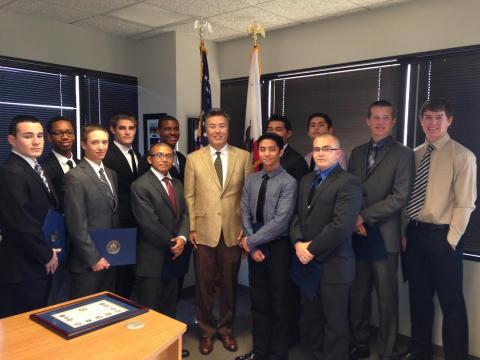 Congressman Takano with the 2014 Service Academy Nominees
Instructions
In the year before entry to the academy, you may submit the application forms. The Application for Representative Takano's congressional nomination consists of six parts, listed below. Please note that all pages except the first page of the nomination application require the consideration of current academic faculty and should be submitted with enough time for consideration of the applicant. Applications for Class entering 2017 must be submitted to arrive with postmark of not later than November 1, 2016. Late Applications will not be considered. The nomination application consists of five pages:
1. Nomination Application:
Personal Information (2) pages: Please be sure to provide accurate contact information.
Evaluations (3) pages: The packet should also include a Vice Principal or Counselor Evaluation, as well as a Teacher or Coach Evaluation
2. School Transcripts: Included in this packet should be an official, sealed copy of your high school transcripts, including courses currently in progress, weighted and unweighted GPA, and class rank. Please include transcripts from all high schools you have attended as well as colleges, if applicable.
3. Academic Scores: The Representative will require official copies of your highest ACT or SAT scores, sent directly from the reporting agency. Student photocopies will not be accepted. Take the SAT or ACT examinations no later than October. Representative Takano's code numbers for ACT: 7280 and SAT: 4431.
4. Letter of Recommendations: The packet should also include a Vice Principal or Counselor Letter of Recommendation, as well as a Teacher or Coach Letter of Recommendation. You may also choose to include a third Letter of Recommendation from anyone of your choice whom they had direct observation or supervision over you (e.g. community leaders, employer, pastor/priest). No more than three Letters of Recommendations will be accepted.
5. Professional Resume: Include a resume detailing your high school extracurricular activities, community service, work experience, and honors/awards. Do not include a picture.
6. Personal Essay: A personal essay of 500 words or less, describing why you want to attend the military academy of your choice. Keep in mind format, grammar and content.
You must notify the academies of your interest in applying. Complete your application file at the academy as soon as possible and keep your file up to date. For information about the military academies click on the links below:
U.S. Air Force: http://www.usafa.af.mil
West Point (U.S. Army): http://www.westpoint.edu
U.S. Naval Academy: http://www.usna.edu
U.S. Merchant Marine: https://www.usmma.edu
Upon receiving applications, Representative Takano's Office will contact applicants to come in for an interview by the District 41 Military Academy Board to make the final determination on which applicants will receive Representative Takano's nomination.
For more information, please review the page of Frequently Asked Questions for those seeking a Military Academy Nomination.